The intimate picture of Ms. Steinem was the first of dozens of new images of female leaders — in politics, sports, business and culture — that Ms. Leibovitz, 67, began taking last year to update her 1999 project "Women," a book collaboration with her partner of 15 years, Susan Sontag, who died in 2004. "It really resonated," Ms. Leibovitz said, but "the project was never done."
Seventeen years down the line, with "Women: New Portraits," she is adding to history, with a new mentor, Ms. Steinem; a new generation of viewers to reach; and a new format beyond the printed page. Since January, Ms. Leibovitz has been on a 10-city international tour, appearing not in museums or shopping malls but in historically rich "pop-up" sites where the audience is invited to join her in "talking circles," led by Ms. Steinem. They have focused on issues that range from sexual violence against women in Mexico City to women's experiences in the technology world in San Francisco.
"Talking in groups like that, it brings me to tears that we can do this sort of work within the show," said Ms. Leibovitz, who added that the new work is more "democratic" — more personal, more satisfying, more concerned with what someone does (like Andréa Medina Rosas, a human rights lawyer working with women on the United States-Mexico border) rather than how they look.
Photo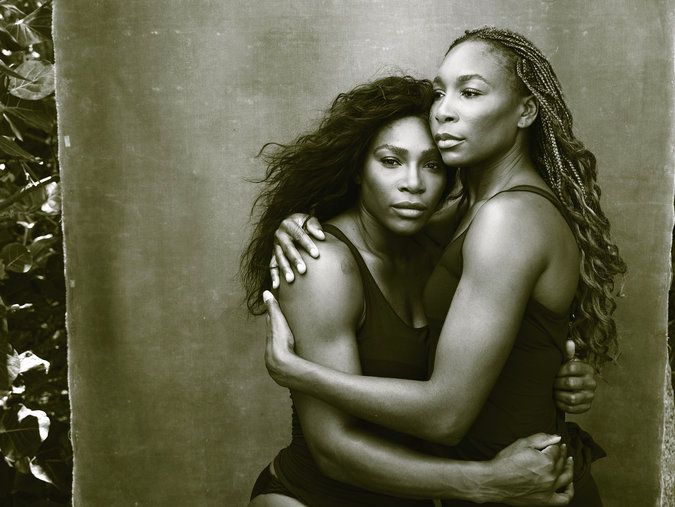 "Serena and Venus Williams, Palm Beach, Florida, 2016" Credit Annie Leibovitz
"And being there with Gloria and talking in groups like that," she said. "God, is it possible it could be like this? I like this life."
Plausibly the leading celebrity photographer in the world, Ms. Leibovitz has been shooting women as personalities for 45 years, in the glossy pages of "Rolling Stone," "Vanity Fair" and "Vogue," earning what was once reported to be $5 million annually, and up to $250,000 for advertising clients.
Continue reading the main story
With her strong, opinionated voice, she has done much to define the canon of contemporary portraiture, producing indelible and provocative images that included a nude John Lennon huddled against his clothed wife, Yoko Ono; the partly clad Disney star Miley Cyrus at 15; the very pregnant and very nude Demi Moore; and Ms. Ono after her husband's death — her "tears" courtesy of a Vaseline camera trick (though Ms. Ono told others that Ms. Leibovitz never explained why she was being daubed with Vaseline).
"We were looking hard in 1999 for women C.E.O.s and women who ran companies — we shot Carly Fiorina," Ms. Leibovitz said, comparing the two projects. "Now, it seems that there really are many more women in high positions. It seemed like issues were more in the forefront."
There is nary a nude among the rows of portraits pinned to the studio wall behind her, sponsored by a carte blanche commission, valued in the millions of dollars, from UBS, the financial services company — though one could hardly imagine asking the singer Adele at her piano, the television producer Shonda Rhimes on set, the Pakistani activist Malala Yousafzai in a classroom, the primatologist Jane Goodall, or the senator Elizabeth Warren to disrobe. Caitlyn Jenner is the most scantily clad of the group.
Photo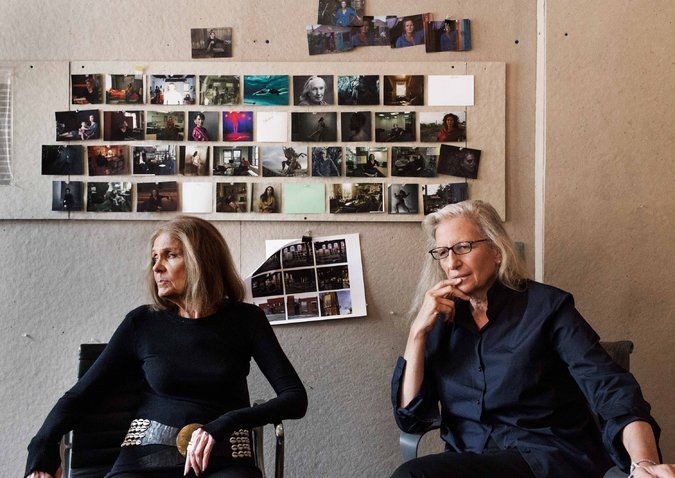 Gloria Steinem, left, and Annie Leibovitz in the photographer's studio. Credit Philip Montgomery for The New York Times
Revisiting the 1999 project, she said: "I wanted to see Gloria Steinem older. I wanted Misty Copeland, the first black prima ballerina of a company that's been in existence for 75 years." And no one knew Lena Dunham. Ms. Leibovitz is working hard to get a few minutes alone with Angela Merkel, the German chancellor, who doesn't like to be photographed, before the show's opening on Oct. 14 in Frankfurt.
"You can't look at all those images without seeing the true human diversity of women, not characterized by whatever feminine idea or roles of who we're supposed to be," said Ms. Steinem, who helped compile the list.
The age-old format of sharing stories in the circle is "activism 101," she added. A circle of chairs is placed in the center of each installation, flanked by the new portraits on a long bulletin board; two large monitors project a slide-show of Ms. Leibovitz's earlier pictures. The tour began in London last January at the Wapping Hydraulic Power Station, and freshly shot portraits have been added in each city.
"When you're a photographer, you work in a vacuum," Ms. Leibovitz said. "You take a picture, it gets published. You don't really hear from people. This kind of thing, where you get to see people looking, it makes me want to do more of it and be more engaged like that."
On Nov. 18, the exhibition will open in New York in the gymnasium of the old Bayview Correctional Facility, a former women's prison on West 20th Street and 11th Avenue that closed after damage from Hurricane Sandy. After the exhibition finishes there on Dec. 11, Deborah Berke Partners and the NoVo Foundation will begin transforming the Art Deco structure into the Women's Building, a future hub for women's groups and services. When it opens in 2020, its forlorn cells will be gone and its terra-cotta facade and colorful wall mosaics restored.
Photo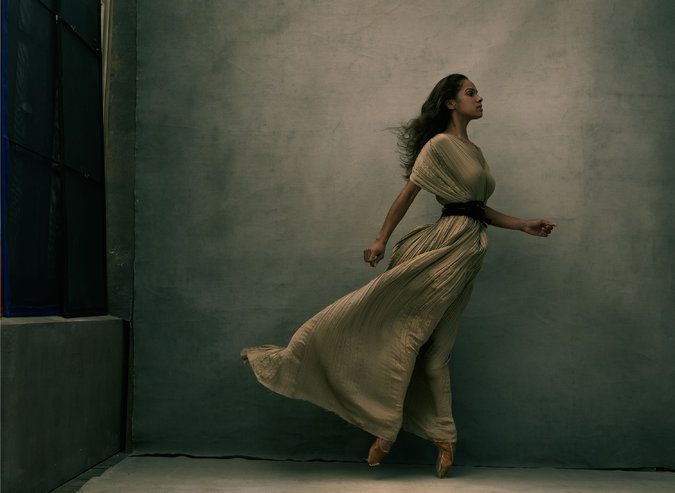 "Misty Copeland, New York City, 2015" Credit Annie Leibovitz
"It's a harmonic convergence," Ms. Steinem said of the alignment between the empowering message of the exhibition and how the building is being reimagined.
Continue reading the main story
Ms. Steinem said she has been "tap-dancing hard" to help get the plans for the women's center through bureaucratic approvals and steered Ms. Leibovitz to the space. They have invited formerly incarcerated women from Bayview to be docents and will lead a discussion on women's rights and female incarceration in a public gathering on Nov. 16.
The initial idea for a book of photographs about women was Ms. Sontag's, whom Ms. Leibovitz met in 1989 while taking her photograph. She described prepping for her first dinner date with the formidable writer by reading two of Ms. Sontag's books and The New York Times front to back. "I wanted to take note cards with me," she laughed, adding that Ms. Sontag was "so charming and so nice."
Their relationship began during the throes of Ms. Leibovitz's work at Vanity Fair, for which she famously shot Whoopi Goldberg submerged in a bath of milk. (A prolific researcher, Ms. Leibovitz was referencing one of the comedian's stage personas — that of a black girl who uses bleach to scrub her skin in an attempt to look white.)
Ms. Sontag encouraged her to tackle a complicated and personal series. "I knew that if I was going to be involved with Susan Sontag, I was going to have to be better — be a better photographer, be a better person," Ms. Leibovitz said. She used as her template the photographer August Sander'sconcept of documenting "all walks of life" and went out to find schoolteachers, astronauts, Supreme Court justices, farmers, socialites, prostitutes, the first lady, coal miners, athletes.
Photo
"Gloria Steinem, New York City, 2015" Credit Annie Leibovitz
The book defied the tradition, Ms. Sontag wrote, of photographing women for their beauty rather than their character. The new project advances this idea. "The imagery of women has to catch up with the imagery of men," Ms. Leibovitz said. "I don't know if I ever succeeded for Susan on some level, which is why it is quite beautiful to go back into this project."
The biggest difference she's found between 1999 and today is the self-confidence she sees in the women she's photographing.
Eva Respini, the chief curator of the Institute of Contemporary Art in Boston, who hasn't worked directly with Ms. Leibovitz, finds the project striking for the "implicit collaboration" between the photographer and the sitters. "Because of Annie's own power, she's able to get her subjects to reveal something of themselves, subjects that I would imagine are usually pretty guarded," she said. "Oftentimes, when you have a male photographer and a female sitter, there is a kind of imbalance of power to start with. What I see in these photos is a leveling of the playing field."
The New York exhibition will introduce Ms. Leibovitz's new portrait of Serena and Venus Williams, shot in September after Serena's unexpected defeat in the semifinals of the United States Open and the loss of her No. 1 ranking. In the portrait, the sisters are locked in an embrace, with the older, taller Venus like a protective wrapper around a more vulnerable-looking Serena.
Continue reading the main story
"It was a tough shoot," Ms. Leibovitz said. "It's a real thing how they take care of each other and hold each other up." After Venus lost to Serena in last year's United States Open, Ms. Leibovitz was inspired by a full-page picture in The Times of the sisters hugging that she ripped it from the paper and stuck on her refrigerator for her three adolescent daughters — Sarah, born in 2001, and the twins Susan and Samuelle, in 2005. "I said, 'They are sisters.'" She worked for a year to schedule the last shoot.
Photo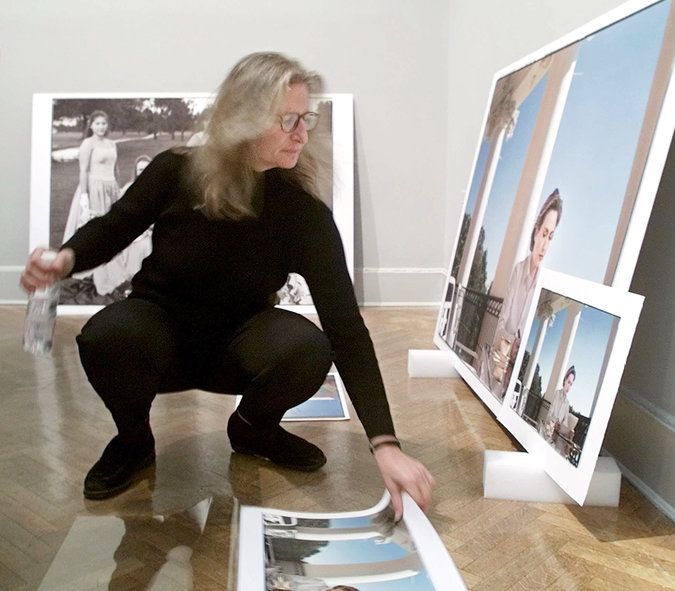 Ms. Leibovitz in 1999, preparing for her exhibition at the Corcoran Gallery in Washington. Credit Khue Bui/Associated Press
"A sitting is very psychological," said Ms. Leibovitz, who spent a day in Virginia with the photographer Sally Mann, by the river where Ms. Mann had photographed her own children. "Because she's a photographer, she knows what you want, or wish you could have, and there was a kind of resistance initially to giving that. Then, partway through, there was a moment — you could almost see it happen. She gave me those pictures."
Yet Ms. Leibovitz was clearly uncomfortable with the reversal of roles when a photographer arrived at her Chelsea studio to shoot her and Ms. Steinem. Ms. Leibovitz interrogated the man on how he positioned them, the angle he was shooting from, and his choice of lighting, at one point leaping up to inspect how it looked on the screen at the rear of his camera. "I can't help myself, I'm sorry," she said. "I'm such a control freak." (She later invited him back for another photo session.)
Ms. Leibovitz has kept a tight rein artistically but not always business-wise. She faced well-publicized financial problems in 2009 after taking ill-advised loans of millions of dollars and using her homes and rights to her photographs as collateral. She has spoken of the many stresses she faced, from existing mortgages on her homes to federal and state tax liens, to lawsuits, to expenses associated with the deaths of Ms. Sontag and her own parents, and the birth of three children.
"I kept waiting for a knight in armor to come save the day, but the only answer to it was just for me to work hard," Ms. Leibovitz said recently. She refinanced the loans in 2010 and said she repaid the outstanding balances by 2011. (In 2014, she sold her West Village townhouse complex for $28.5 million and "downsized" to an $11 million apartment on the Upper West Side.)
"It's always a kind of tortuous thing between art and commerce — how we make a living," she said. She calls assignment work for magazines "a great highway," even if the pictures that get published aren't always her favorites.
Photo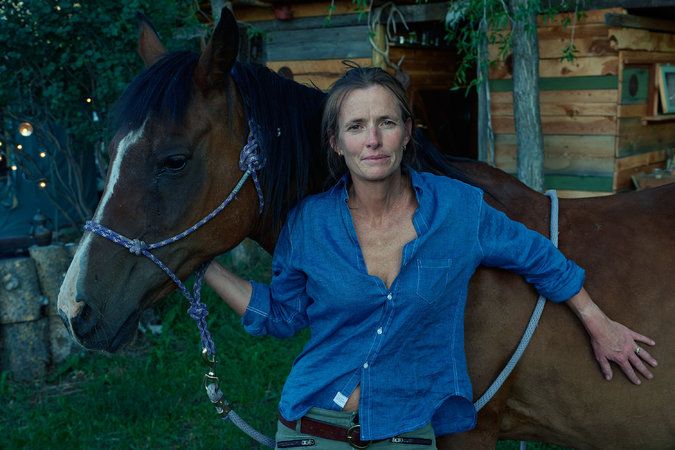 "Alexandra Fuller, Wyoming, 2016" Credit Annie Leibovitz
Her association with UBS began in 2014, when she was hired to shoot an advertising campaign. When UBS asked if there was something she was interested in doing for herself, she proposed the series of new women portraits. "It harkens back to being commissioned in the Renaissance," she said.
The bank agreed to her fee but would not discuss details.
According to Johan Jervoe, the chief marketing officer at UBS, it has made the exhibitions free for the public and sponsored educational programs and workshops for art students with Ms. Leibovitz at each space. UBS gets a set of prints at the end to add to its corporate collection of 35,000 artworks and the association of Ms. Leibovitz's high-profile tour to burnish its brand.
Continue reading the main story
"This is a dream assignment for me," Ms. Leibovitz said. "Not enough people talk about how great it is to get older and some of the cool stuff you get to do."
That can mean jumping into the pool, as she did recently to photograph the Olympic swimming champion Katie Ledecky underwater, pushing off from the side as though in a trance. Ms. Leibovitz is confident she will be photographing Hillary Clinton in the White House. "This is her time," she said.
When will she consider the project complete? "Susan herself said this was always a work in progress," Ms. Leibovitz said. "Women are a work in progress. To my dying day, I'll be doing these photographs."
Continue reading the main story